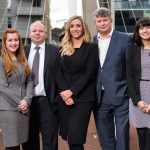 A family law solicitor in Wilmslow can assist you at a trying time. As experts in all areas of family law, we can assist with concerns relating to divorce, child custody and maintenance, financial disclosure, civil partnerships, cohabitation disputes and more. We've been practising family law with excellence for many years, and continue to provide our expert services. Hence, if you need advice or assistance with a matter pertaining to family law, you can rest assured our solicitors can assist. Our clients' happiness matters to us. Give us a ring to schedule your consultation.
The breakdown of a marriage is a challenging time. In Wilmslow, a family law solicitor can help shoulder some of the burden. We understand that this is an emotionally turbulent time. Further, we'll provide a pragmatic yet empathetic approach. As such, we'll ensure that understand the process. In order to apply for a divorce, it needs to be proved to the court that the marriage has irrevocably broken down and there are grounds for divorce. Therefore, the grounds for divorce can include adultery, unreasonable behaviour, and desertion. Furthermore, our solicitor will guide you through the process, providing sound advice along with compassion and understanding.
A family law solicitor in Wilmslow can also assist with custody and child care arrangements. Divorce affects each member of the family. As such, we understand that your children remain your first concern. Moreover, our family law solicitor has the compassion and experience to guide you through this turbulent time. If you require assistance from a professional family law solicitor, contact BPS Family Law right away. Our family law solicitors are experts in their field. Additionally, they're also committed to providing a personal service. Hence, you can trust that you are in safe hands. Moreover, you'll gain peace of mind knowing that your rights, as well as your children, are our highest concern.