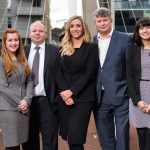 Need a family law solicitor in Manchester? BPS Family Law has been helping families with all of the legal services they need for over 60 years. Our team of solicitors are experts at handling any case relating to families. We can help you with whatever you need including divorce, children disputes, financial disclosure, and anything else you can think of before, during or after marriage, civil partnership, or even cohabitation. We give a personal service to every one of our clients and will ensure that the outcome will be the best one possible.
If you live in Manchester, a family law solicitor is the last person you wanted to be talking to when you began your relationship, but we understand that things change. We give you a foundation of legal advice that can make it easier to get through these tough times. Our solicitors work for you with compassion, and we realise that you are having difficulties in your family. We know that you want to get through the process in a quick and painless way, and we will make that happen for you to the best of our ability. We will mediate between parties and provide advice to ensure the happiness of our client when it comes to fairness in all disputes.
A family law solicitor in Manchester from BPS Family Law is ready to be at your side. We will save you money by working hard for agreement before the court is needed. This process of settling outside of court has complex steps that require expert legal advice, and we are professionals who can make this as simple and quick as it can be. We also offer multiple payment options to fit your needs. Give us a call today if you have any legal needs for your family. We are happy to help you with some of the most important decisions of your life.