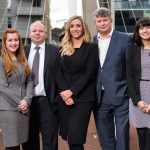 Let the best divorce lawyer in Culcheth help you through one of the most difficult times in your family life. At BPS Family Law, we provide clients with the expertise and knowledge that our six decades of experience have given us. We believe in taking a pragmatic and professional approach to the complex and emotionally-charged issues that arise during separation and divorce. Apart from the couple themselves, if there are children involved, their best interests must also be given top priority. At present there are more than 10,000 law firms in England and Wales. While many of them do undertake family law work, not all have the experience and competence to do so. It's wise to select one that has a proven track record like ours to ensure that you get your full entitlements and understand your rights with the least amount of acrimony and dispute.
It's also important that the lawyer and law firm you choose are in sync with your own ethics and values. In Culcheth, divorce lawyers should have the necessary education, training and qualifications to practice this branch of law. In many cases, going to court is usually the last resort. A trained and skilled lawyer can ensure that the processes of mediation, arbitration, and collaborative law are fully explored before taking the case to trial. Mediation is a better way to reach financial agreements in divorce cases, although a judge approved court order is essential to make the agreement binding on both parties. We can help you with this paperwork. When children are involved, their voices play an equally important part in the final settlement of divorce issues. We work along with parents for the ultimate benefit of children.
Trust your own instincts while choosing a divorce lawyer in Culcheth. You should feel comfortable and confident, no matter what your ethnicity or race. Contact BPS Family Law if you are looking for a divorce lawyer. In some cases, the couple may be business partners as well. They may own property together, have shares in various entitles including holiday properties. These matters have to be calmly and evenly sorted out in a non-confrontational way.