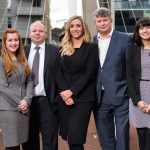 The best family solicitor in Daresbury is BPS Family Law. Our firm is made up of high achievers with a lot of experience dealing with the legal complexities families face. Our partners' experience goes back as far as 1948. Other of our solicitors have joined our team with varying degrees of experience. That matters because the best family solicitor must have a long view and the short view of the changes taking place every day in society and the legal system. Our firm is regularly listed on the UK 500 top recommended solicitors. The experience and worldview is so important because it leads to wisdom. Wisdom and a natural empathy is needed to help others undo the legal knots by which they are bound.
Legal procedures, especially contentious disputes, are by nature disruptive to those involved. However, in Daresbury, best family solicitor BPS Family Law understands that extra layer of emotion added when the adversaries are family members. Our services as divorce lawyers come highly recommended by our clients. However, a comprehensive family law firm includes many other family legal issues. Sometimes, divorce is the catalyst that spins off other disputes. For instance, we represent grandparent's rights to see their grandchildren when access has been denied by the parent. We address non-compliance of court ordered alimony, child support or restraining orders and custody agreements. We highly recommend pre-nuptial agreements that we can prepare for you.
As the best family solicitor in Daresbury, we at BPS Family Law will take up your cause regarding will disputes, inquests into cause of death, cohabitation and more. Our goal in all family law matters is the best outcome for our client. We are very successful in meeting those goals because we are dedicated to our clients. We make sure to educate them as to their rights and how we intend to pursue justice for them. Contact BPS Family Law and schedule a consultation. We are very easy to talk to and while no two cases are the same, we are very familiar with your circumstances. We will explain exactly how we will approach the resolution of your family legal matter and what your rights are.