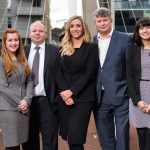 Consult the best family solicitor in Stretton when you face a legal problem. It is important to get the right advice and legal assistance at such a stressful time in your life. We know from experience that the slightest error or incorrect information can make all the difference to many lives. Though all lawyers are qualified to practice any area of law, a specialist has the expertise, experience and in-depth knowledge at her/his fingertips. As a local firm, we are familiar with the court procedures and conventions, and understand how things work. We are a boutique firm and we specialise in high value matrimonial finance. With more than sixty years experience in handling divorce cases in the Manchester and surrounding areas, our team can ensure that you receive the best possible outcome.
For clients in Stretton, the best family solicitor on our team can help you to handle issues such as pension distribution post divorce. We understand the sensitive nature of these issues. As your advocates, we ensure that your rights are fully safeguarded. We are committed to protecting your privacy and confidentiality whenever you share any personal data with our firm. This information is collected purely in the interest of providing the necessary services to you. Moreover, the use of this information is subject to your instructions, data protection laws and our duty of confidentiality. Our other services include enforcement of court orders and injunctions, civil partnership issues. In addition, cohabitation rights, rights of grandparents, pre-nuptial arrangements, children's rights, custody, and maintenance, and financial disclosure.
With the best family solicitor in Stretton on your side, you can ensure that the paperwork is legally binding, and that your rights are protected. Some clients may feel that if their divorce or other family matter can be settled amicably, there is no need for a lawyer's assistance. However, we can also help you to understand how the divorce process works. To schedule an appointment with the best family solicitor, contact BPS Family Law. In addition, we can suggest alternate strategies, conduct negotiations on your behalf and make sure that the process goes through as smoothly and quickly as possible. In case negotiations don't work, we are ready to represent you in court.