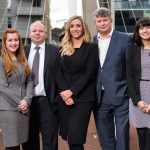 You will find the best solicitor for family law in Altrincham at our firm. Family law cases can range from relatively benign settlements to outright disputes, and as such, it's advisable to rely on the services of a family law solicitor. As with any familial dispute, cases involving family law can be draining, drawn out, and stressful, but a good solicitor can help ease the transition into a settlement. Furthermore, he can ensure that all parties involved receive a fair hearing. It's also important to understand your rights in order to have the best possible outcome.
Speak to us for assistance. In Altrincham, family law is an area in which we specialise. As such, we can assist with divorces, matrimonial finance, pre-nuptial agreements, children disputes, co-habitation disputes, enforcement of court orders, contested probates, inquests, and court protection/power of attorney issues. All services are approached with compassion in mind, and with the application of years of experience and legal expertise. Each client will receive a personal service, attuned to both their emotional and legal needs. You can be sure that you are in the hands of a professional.
Family law in Altrincham can also include financial settlement during a divorce. In addition, issues concerning the rights of a child can be addressed. This would include the financial care of the child by the non-custodial parent. Custody and visitation is another aspect that needs to be looked at during a divorce. A solicitor with years of experience in family law is the best person to assist you. We are available to assist at a challenging time. If you need assistance with any aspect of family law, contact BPS Family Law today. We'll schedule a consultation and assist you to reach the best outcome for all parties.