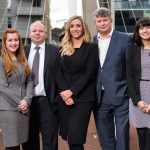 If you are getting a divorce you will be looking for the best family solicitor in Northwich. We are specialists in all forms of family law. We can help you with more obscure problems in family law like arranging a power of attorney if your parent becomes incapable of managing their finances. This will enable you to care for them and arrange their finances to their benefit. You can pay their bills and hire carers or find a perfect retirement home for them. This is one of the important parts of being a responsible and caring adult. Many old people suffer lives and can find themselves in serious trouble without help.
If you live in Northwich, looking for the best family solicitor will lead you to BPS Family Law. If you are separating from your partner you will need expert advice on your rights for yourself and your children. As a mother or a father you want the best for your children and an angry divorce does not result in well balanced children. We help you to settle your differences as amicably as possible so that there is less friction. Many younger children blame themselves for the divorce and this can impact on their mental growth and health. Your children are the responsibility of both the parents to ensure they grow up with all their needs met.
Looking for the best family solicitor in Northwich? Contact BPS Family Law today and one of our experts will help you solve your family problem. We have been giving expert advice for over 65 years and successfully dealing with a wide range of family law issues. Our solicitors are all highly qualified and very caring. Our aim is to help you and make sure you know what your rights are in any situation. We know that courts and law are very stressful for many people and we explain what is expected of you and what to expect from the opposition.