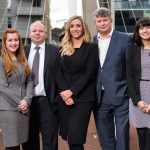 There will come a time in everyone's life where you will need a family solicitor in Altrincham. For every important occasion in life a solicitor will be needed. When you become engaged to be married it is time to think about prenuptial agreements. This is not a case of being cold and calculating it is the most sensible and logical arrangement. No-one goes into a marriage ever imagining a divorce but this frequently happens and if you have set the ground rules it makes everything so much easier to resolve. Your solicitor will make sure that every eventuality is covered by the agreement. Both parties are then aware of what they get out of the marriage. You do not need to be wealthy to have a prenuptial contract even regular people can spend a lot of money fighting for their rights in a divorce.
Many people do not want to discuss death and wills. In Altrincham, if you need a family solicitor we can come to your home to write your will. In a relaxed and comfortable surrounding it is easier to remember what you want to say. Young people should also have a will as life can be unpredictable and no-one knows when they will die. Families can be left devastated when someone close to them dies, having strangers take the possessions of the loved one can be crushing.
When you need a family solicitor in Altrincham we are nearby. Contact BPS Family Law today so that we can help you sort out all the necessary documents you and your family should have. We have some of the best qualified and experienced solicitors in the area. BPS Family Law has been serving the people for over 65 years and will carry on with their excellent practice for many, many more. Our practice deals with every conceivable legal matter a family can be faced with from child disputes to civil unions we have the experts to deal with your problem. Co-habitation brings a new set of problems if you have not adequately prepared for it.