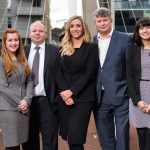 Contact the right family solicitor in Widnes when you need expert legal advice and assistance. At BPS Family Law, we have 70 years' experience in providing sterling services to generations of clients. We take pride in our reputation for excellent, discreet and top-quality services that are available to clients in the Manchester, Stockton Heath, Hale and neighbouring areas and beyond. We help clients with divorce, pre-nuptial agreements, matrimonial finances, disputes involving children, enforcement of court orders, cohabitation issues, wills and probates, inquests, contested probates, power of attorney, court mandated protection etc. Our team of experienced, highly-qualified professionals are passionate about sharing our knowledge and expertise for the benefit of clients, no matter how big or small the problem.
Family disputes can become extremely messy, since the bonds under stress are strong and enduring. When disputes occur, emotions run high and people are pulled in different directions. In Widnes, family solicitors can bring a sense of balance and perspective in these situations. We offer practical, swift, cost-effective legal solutions where disputing parties can arrive at a satisfactory compromise. In many cases, we can resolve the issue without resorting to legal action, through a process of negotiation and mutual sharing of viewpoints. Family relationships are both fragile and enduring at the same time and it takes a lot of tact, compassion and discretion along with a deep understanding of human psychology to ensure that our clients feel that they have not been short-changed in any way.
A trustworthy, highly-skilled, experienced family solicitor in Widnes can help you understand and act on them. There are several complex issues involved that people may not be aware of. You will also need expert advice from other professionals like accountants, doctors, psychologists, psychiatrists, and property-valuers. Each situation is as unique as the people involved. Contact us for more information on our services. Our legal team can provide the 360-degree legal perspective and advocate for you in all mediation and negotiations. We can also ably represent you in court and ensure that your rights and interests are safeguarded.