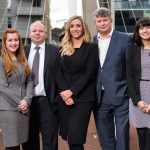 Are you seeking a divorce lawyer in Appleton? Have you come to a time when you find that you unfortunately must end your marriage? BPS Family Law is here to help. We have a highly experienced and qualified team of solicitors who specialise in most major aspects of family law. Matters to do with family may sometimes become contentious and difficult to handle calmly and effectively. Our solicitors understand this and are happy to help you navigate the legalities of various facets of quarrel that involve family. These include co-habitation disputes, matters to do with finance in the marriage, and even those disagreements that involve children. We have the experience to guide and advise you as necessary.
For couples in Appleton, a divorce lawyer is available when you schedule an appointment. He will  assist you in the dissolution of your marriage. Our solicitors are both professional and caring and are looking only to bring about the best result for you. We have over 60 years' worth of experience and you can rely on our experience and can-do attitude. If you have been married for not less than one year and wish to dissolve your marriage, our divorce lawyer can help you present your case to the courts. They will establish the main grounds under which you seek a divorce which may be, but are not limited to, desertion, or adultery, and then help build a strong case for you in the granting of your divorce. Through all this, your solicitor will be there to provide step-by-step guidance and sound advice.
If you need a divorce lawyer in Appleton, contact BPS Family Law. You will be afforded the opportunity to work with experts in divorce law who are compassionate and dedicated to offering excellent service to their clients. We also offers various options for payment to meet your convenience including structured payment, fees charged at a fixed rate, or even those paid only at the conclusion of your case. The process of establishing your divorce will be less harrowing and more efficient.