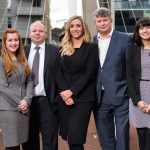 Your family solicitor in Thelwall plays an important role through the seasons of your life. BPS Family Law realises that many young to middle aged people think of a family solicitor for purposes of divorce, child custody and support. Prenuptial agreements are requested more than ever before. Cohabitation agreements and disputes often need attention because so often people believe the law recognises common law marriage as legal marriage. All of these family situations including restraining orders and court ordered compliance are serious. Our law office wholeheartedly advocates for our clients in these matters and have done so for 80 years. We attract the brightest, most experienced professionals;  passionately committed to securing the rights of our clients.
BPS Family Law encourages you and your family to consider legal matters that may seem insignificant now but if ignored can cause future complications. For adults in Thelwall, family solicitor services would include drawing up your will so your assets are distributed according to your wishes. Everyone should also have a living will or health care will directing your medical care at the end of your life. If you are terminal and can't live without the aid of extraordinary medical intervention do you want that intervention or would you prefer to be kept comfortable and allow a natural demise? If you don't put your decision on such matters in writing someone else will decide for you.
As a family solicitor in Thelwall, we understand that a great fear of the ageing population is dementia. Right now you don't believe it could happen to you yet you probably know people afflicted with some degree of dementia. So what if it does happen to you? Somebody has to make your financial, property and health decisions for you and make provisions for your long term care. You know who you don't want overseeing your care. Contact BPS Family Law and we'll prepare Power of Attorney documents designating the person or persons you would want making decisions for you. These legal documents take little time to prepare and are easily filed away until needed, if ever. You are in charge of your life; make sure you stay in charge right through to the end. You will be relieving a heavy burden that would otherwise fall to family members.