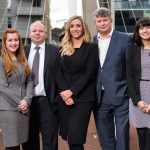 When relationship crises loom, consult our experienced family solicitor in Partington. At BPS Family Law, we understand the grief, confusion and distress that families go through when there are misunderstandings, incompatibility and property issues. When children are involved, matters can become even more complex. However, our trained, experienced and discreet teams can help you overcome such events with minimum confrontation and maximum benefits. Being trained professionals, we provide the objective viewpoint to balance emotionally charged situations, as people's judgment can get seriously clouded when close relationships are involved. However, it's important to keep a practical perspective and this is what we offer, along with the right information, advice, assistance and advocacy. We are on your side!
There are several family solicitors and firms available in the region, but we have earned the reputation of being reliable, efficient and affordable through the eighty years that we've been in business. In Partington, family solicitors are essential in resolving disputes regarding marriage, children, cohabitation, and divorce. If the partners are also business partners, issues become even more complicated, because assets and liabilities along with corporate responsibilities have to be evenly worked out. Many clients have never dealt with law or lawyers and they are confused about the formalities and regulations. Our lawyers have the time, patience and compassion to explain and inform clients thoroughly so that every decision they make is an educated one.
Family solicitors in Partington provide services in many different areas of family law. Today, the concept of collaborative law has gained ground and it saves you a lot of emotional stress and expense. We ensure that our clients get the best of modern concepts like these. While selecting the right family solicitor, clients should ensure that they feel comfortable, safe and easy while communicating with the lawyers and law firm. They should also get the right information on who exactly will be representing them and whether there will be continuity in this process. When you need the services of a family solicitor, contact BPS Family Law. Clients should know that all solicitors should be registered with the Law Society and their advice is covered by a Professional Indemnity Insurance.