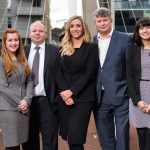 All you know is that you need a divorce lawyer in Grappenhall; beyond that you can't think. You don't even know what to look for when choosing a professional to lead you through what you hope will not be nightmare. We've been established since 1948. We never say we've seen it all because every divorce is as individual as the parties involved. Laws change and we adapt but people all handle this time in their life differently. Even when you are the one seeking the divorce, it's still a stressful and emotional experience. Our divorce lawyers are compassionate and understanding and you'll get that sense of them right away. Working this closely with clients there is no way we could not empathise.
That said, it's because it's an emotional time that we bring to your divorce proceeding a cool head. What you need in Grappenhall is a divorce lawyer who is a professional. We express complete confidence in our abilities and knowledge and a calculated determination to help you achieve the best possible outcome for you. There are some things, like belongings or support settlements that you may not care about right now. But we know you will care later so we fight for you and lead you to keep your own best interests in focus. We have clients that come in to our office and declare they don't want anything; they just want out. We get that, but we know the reality is likely quite different and we want to make sure when all is said and done that our clients are treated fairly.
When you choose us for a divorce lawyer in Grappenhall, you will be represented by one of the most enduring and respected firms in the area. The time frame to a final dissolution of marriage will depend on circumstances. An uncontested divorce with no children and few assets will likely proceed more quickly than a contested divorce with multiple financial interests. However, we keep our rates reasonable and offer several options including payment at the completion of the case, fixed fees and structured payments. Contact BPS Family Law when in need of a divorce lawyer. We'll schedule a consultation and get to know each other. We will advise you of what to expect and how we will handle it. You can depend on us to represent your interests at all times.