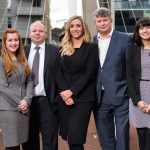 A reputed, experienced family solicitor in Cheshire can provide the right advice, assistance and advocacy. At BPS Family Law, our team of highly trained, empathetic legal experts can deal with a comprehensive range of issues in families, between couples, parents and children. Unfortunately, the fact that these relationships are so close makes disputes and disagreements seem much deeper and difficult to solve. We approach every such issue from a purely objective perspective, while firmly prioritising our client's interests, rights and entitlements. Our approach is a proactive and forward thinking one, minimising conflict and confrontation while remaining assertive and forceful. With more than eight decades' of professional experience to guide us, we ensure that matters are settled to your complete satisfaction.
There are enormous and very real benefits to taking the help of a trained legal mind in situations like divorce, children's rights, pre-nuptial agreements, cohabitation, inquests, and enforcing court orders. In Cheshire, family solicitors can help you to negotiate the best deal for yourself. This is a highly complex and complicated area of law, subject to amendments and changes with reference to the latest cases. The paperwork is also highly confusing to the untrained layperson. Mistakes in filing, meeting deadlines, and submitting relevant documents can result in unnecessary delays and extra costs. Another important function that family lawyers perform is that they can incorporate other relevant experts and professionals to help with your case. For instance, accountants can assist in compiling financial information, psychologists can assess the mental and emotional state of children.
You can also get access to expert mediators and arbitration specialists through your family solicitor in Cheshire. Certain disputes involving cohabiting couples arise when the relationship breaks down. When you need the assistance of a family solicitor, contact BPS Family Law. Current statistics show that more than three million couples in the UK prefer to live together rather than marry. Unfortunately, they may not have rights unless specific agreements are drawn up between them. We can help you in such situations and many others too.