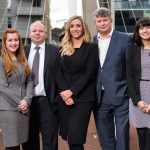 You will find the best family solicitor in Lymm at BPS Family Law. Family law cases can be as diverse as a small settlement to a very large dispute. Regardless of the issue, it is wise to have a good solicitor on your side, representing your case. As any familial dispute, cases involving family law can be draining, drawn out, and stressful, but a good solicitor can help ease the transition into a settlement, ensuring that all parties involved receive a fair hearing. It's also important to understand your rights whenever dealing with a court, in order to have the best possible outcome.
For those with disputes in Lymm, our family solicitor is available to assist with the completion of any legal issue regarding the family. We offer a large range of services regarding family law. These include divorce, matrimonial finance, pre-nuptial agreements, children disputes, co-habitation disputes, enforcement of court orders, contested probates, inquests, and court protection/power of attorney issues. All our services are approached with compassion in mind, and with the application of years of experience and legal expertise. Each client will receive a personal service, suitable to both their emotional and legal needs.
A family solicitor in Lymm can assist with cases involving children, as well as the children's guardians. If a couple has decided to separate, regardless of whether they were legally married or not, the responsibility of their children remains the same.  Children are entitled to proper care and love from both parents. Our family law solicitor can ensure that you understand the rights of your child, and assist in ensuring that they remain protected. While the processes involved with separation of a couple living together differ from those who are married and are now getting divorced, the fact remains that the children born of the marriage, still require support from both parents. If you have any questions or need advice on any family related legal issues, contact us today and we will guide and assist you. A supportive solicitor can help you make it through this tough time.