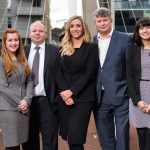 A family law solicitor in Urmston will prove to be an asset during your divorce proceedings. Our many years of experience have created a base of knowledge about what people under stress are capable of. For our clients that means we recognise the signs of troubling behaviour and head it off before it reaches crisis level. During divorce proceedings, one or the other spouse leaves the family home. It may be the home will be placed for sale intending to divide proceeds between the two parties. The spouse living in the home decides to get some cash from the sale of household furnishings and places everything out for sale in a yard sale. We, as solicitors for the displaced spouse would immediately get an injunction against the resident spouse so he or she could not spend the money from the yard sale.
Assets are frozen, if necessary, during divorce proceedings to prevent one spouse from siphoning off valuables before a settlement is reached. For individuals involved in a divorce in Urmston, our family law solicitor expects this kind of behaviour. Some will try to sell cars, cash in retirement accounts, clean out bank accounts and safety deposit boxes. If we think this will happen, we will recommend a court ordered injunction to freeze all assets until the divorce is completed and proceeds distributed. You may be stunned by this behaviour, but sometimes it's understandable. They may feel they earned that money or feel entitled to belongings they consider their own. Even if that is true, they are prevented by law from disposing of any marital assets before the divorce is final.
Injunctions are court orders secured by your family law solicitor in Urmston. The need is usually immediate to prevent one party from proceeding further with unlawful behaviour. We know how to achieve swift action. Such legal documents are also used to remove a spouse from the family home or prevent aggressive, threatening behaviour. A spouse who violates an injunction could walk away from a divorce with nothing. Contact BPS Family Law soon after or even before your decision to secure a divorce. We will put all the legal stops in place to protect you, your children and all marital assets so the opportunity for your spouse to violate your rights is impeded. Your best interests are our priority.