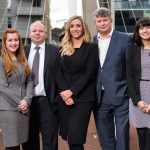 If you're in the early stages of divorce proceedings, it helps to have the best family lawyer in Widnes on your side. Divorce is an upsetting experience for the couple involved. Not only does it mean that you are no longer a married couple, but a division also occurs in other aspects of your once shared life. These aspects include marital assets such as those that were acquired after the marriage. This could be the home where you were both living, the vehicle, any property you might've purchased together, and jewelry. If your partner and you have children together, the question of custody rights will also be important. Sometimes this is decided upon amicably, but there are chances it might go in the reverse direction. To ensure you get what you and your children truly deserve, get in touch with a reliable lawyer.
If you live in Widnes, the best family lawyer is available at BPS Family Law. Our team is your number one source of strength and legal expertise during one of the most challenging periods of your life. We will work hard to ensure your assets are rightly reserved for you. As Family Law experts, we have more than sixty years of expertise in handling divorce related matters. We can assist you with a wide range of issues such as establishing grounds for divorce, children disputes, and division of assets. While going through a divorce, your emotions can get a hold of your better judgment. You may end up making a decision you will gravely regret. This is the time when you need someone to be your rational mind and a BPS Family Lawyer certainly can!
To find the best family lawyer in Widnes, ask your closest friends and family members. Surely, they will refer you to us. Our team has both the experience and qualifications to back up what we offer. If you need the services of the best family lawyer, contact BPS Family Law. You will be pleased you did.